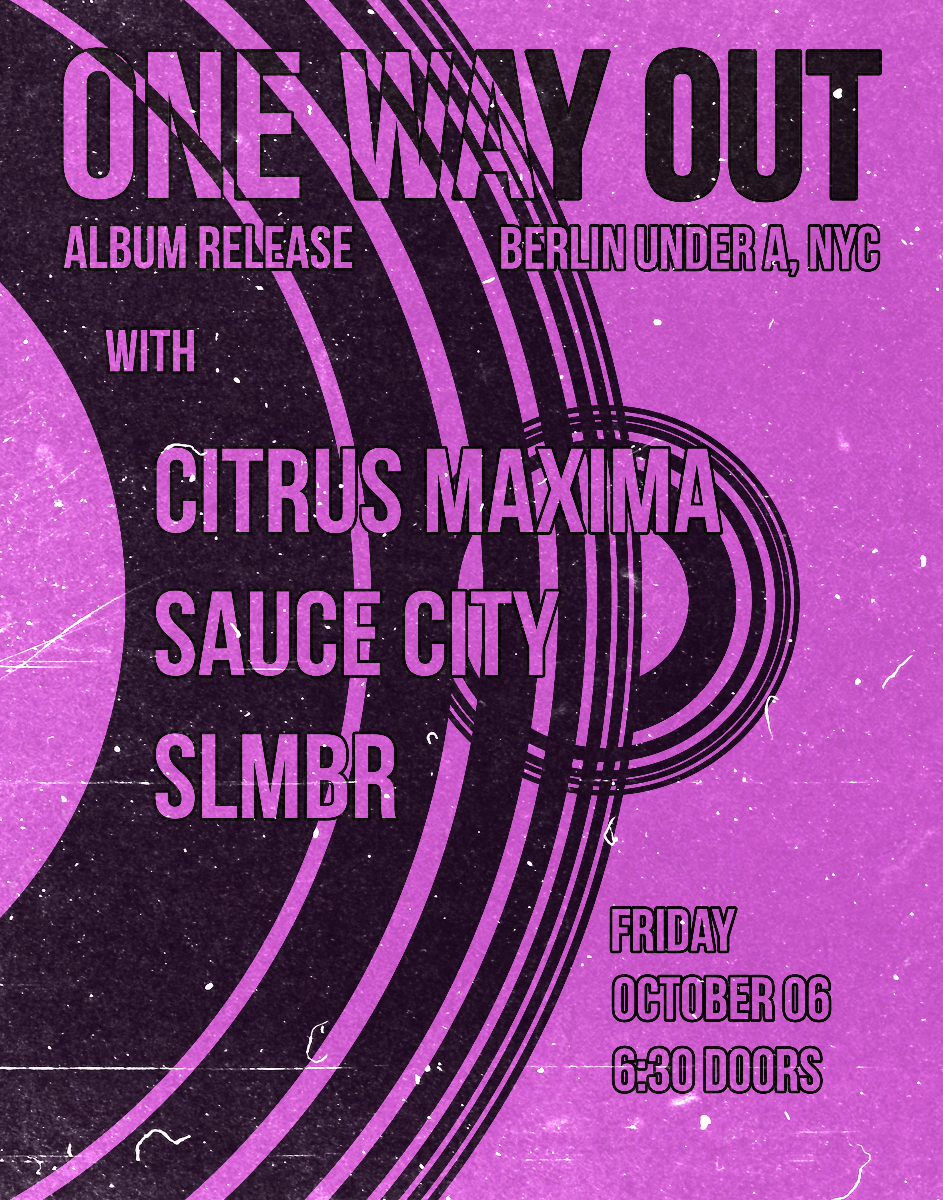 One Way Out, Citrus Maxima, Sauce City, SLMBR
21 and up
One Way Out
"Make no mistake: young DC rockers One Way Out can fill a room."
One Way Out is an dirty shirt rock n' roll band from Washington D.C., packing venues up and down the east coast, touring with Soraia of Steven Van Zandt's Wicked Cool Records, and being nominated for Best Hard Rock artist in D.C. alongside names like Clutch before most members even graduated high school. "Not only can they pack a room full of fans but they can play like seasoned champs, filling a space with the sound of rock 'n' roll." In August 2021, the band released and toured in support of their sophomore LP, The Sun, The Moon, The Truth, an eclectic meld of blues-inspired late 60s rock with progressive elements inspired by metal, hard rock, and jazz. On the record, the band also takes on the aggression of punk emanating from the local DC scene and the philosophies of more modern garage acts, such as King Gizzard and the Lizard Wizard, OSees and Tame Impala.
To use the words of Spill Magazine, "This is, without a doubt, one of the most versatile rock bands around today."
Citrus Maxima
post hogcore indie rock chumps based in brooklyn, ny.
Sauce City
was formed in the Lower East Side of NYC in 2022, seeking to bring tasty grooves to the people.
Tight harmonies and funky pockets compliment the soaring lead vocals of Kirin Dombek, creating a modern take on neo-soul most influenced by the likes of Bill Withers, Unknown Mortal Orchestra, & Stevie Wonder.
The multi-instrumentalist talents of Paul Gregg (former front man of Bencoolen) and Eric Ratner, create a sound that pays tribute to the classic grooves of old with a contemporary spin.
SLMBR
New York based band SLMBR is the brainchild of lead singer/guitarist Nick Sossi Romano, bassist John Africano, and drummer Kristian White. After being in various bands, the three came together to form SLMBR. With their sound being rooted in alt-rock, they tend to break the mold to fold in influences of jazz, pop, and emo. Many of the band's songs tackle themes of mental health, reflection of self, and the human experience.
With the return of live music in a new digital age, SLMBR has been experimenting with their sound. First with their quarantining pop track, "State of Flux", and now their latest rock ballad "Someone I'm Not Used To". By blending the best parts of garage rock, power ballads, and acoustic instrumentation, SLMBR shares a tale of a relationship's first major roadblock, full of regret and optimism. SLMBR is continuing to push their sound further and venture into different genres and soundscapes, and they have no plan to slow down anytime soon.
---